Spectrum Planning
International Fora
Amongst Spectrum Planning activities include AITI's participation in multiple foras to ensure that Brunei Darussalam's spectrum management activities are in accordance with international best practices.
Brunei Darussalam has been a Member of ITU since 1984, amongst one of its roles include to ensure the equitable, efficient and economical use of radio frequency spectrum by all radiocommunication services including those using satellite orbits, and to carry out studies and approve Recommendations on radiocommunication matters.
ITU organises World Radiocommunication Conference (WRC) every three to four years to review and revise the Radio Regulations, the international treaty governing the use of the radio frequency spectrum and satellite orbits.
Since 1986, Brunei Darussalam has been a Member of the APT. It is a focal Intergovernmental Organization for the field of Info-communications Technology in Asia Pacific region. In spectrum planning context, the importance of this platform is to harmonize views and develop common proposals from the Asia Pacific region for the World Radiocommunication Conference (WRC).
The Frequency Assignment Committee of Singapore, Malaysia and Brunei Darussalam or in short, FACSMAB; was formed in 1948 with an objective to manage coordination of radio spectrum at the common border areas of Brunei Darussalam, Malaysia and Singapore
The key functions of FACSMAB are as follows:
To coordinate radio frequency assignments within the region bounded by the three countries;
To resolve cross-border radio frequency interference;
To establish appropriate working arrangements, including setting up sub-committee and inviting industry participation; and
To escalate if necessary any unresolved matters to the Heads of the Regulatory Authorities for resolution
Brunei Darussalam 5G Taskforce is a collaborative effort between relevant authorities, agencies and stakeholders to facilitate the implementation of 5G in Brunei Darussalam in ensuring readiness through exploring business model across the vertical industry and to support Smart Nation initiatives, as well as to conceptualise and deliver smart services to improve social and economic values to Brunei Darussalam.
Spectrum Management Regulatory Tools
AITI has prepared a comprehensive frequency allocation document called Brunei Darussalam Radio Spectrum Plan. This document contains the National Frequency Allocation Table as well as other important information such as SRD, harmonised frequency bands as well as channeling plans for specific categories of radiocommunication services.
AITI allocates the right to use Spectrum for Radio-communications services such as Mobile services in Brunei Darussalam through issuance of Spectrum rights or assignment basis by issuance of Apparatus licenses. 
For more information on the current allocation of Spectrum Rights, please click here.
License exempt frequency bands are those that can be used without the need for prior authorisation or license with the condition that its technical parameters comply with those specified in the Telecommunications (Exemption from Sections 33,34(1)(b) and 35) Notification, 2018. These frequency bands are commonly used for devices that use WIFI, Bluetooth etc.
Spectrum Allocation Band Plans
The radio frequency spectrum is divided into frequency bands allocated to various radio communication services in Brunei Darussalam including fixed, mobile, broadcasting, aeronautical, maritime and satellite communication services.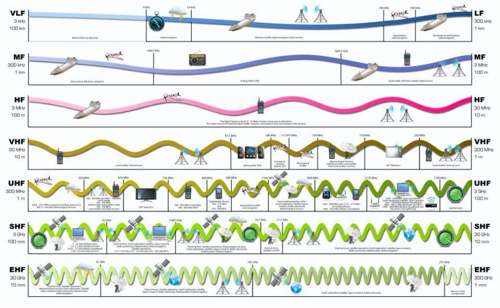 Spectrum Allocation between 9 kHz & 275 GHz (2012 edition)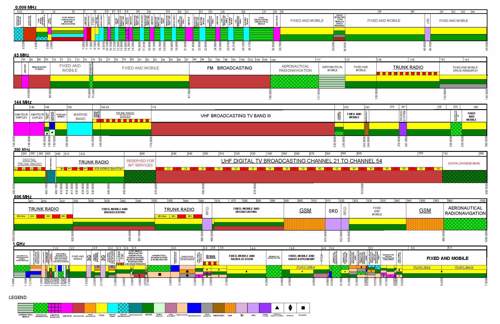 Spectrum Allocation below 7 GHz (2012 edition)