Press Release
Brunei's PDP Journey Highlighted in MYCE 2022 Conference
Saturday, June 11, 2022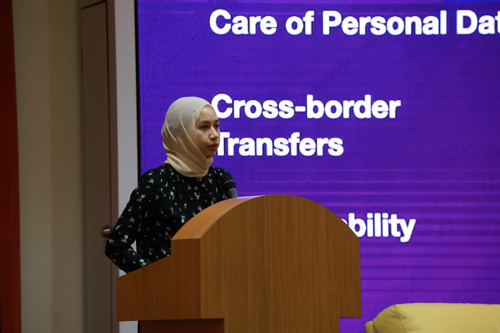 Farah Zainal, AITI PDP Manager, presenting
The Authority for Info-communications and Technology Industry of Brunei Darussalam (AITI) today participated in Brunei Mid Year Conference and Exhibition (MYCE) 2022 conference on Personal Data Protection (PDP). Farah Zainal, Personal Data Protection Manager of AITI presented Brunei Darussalam's PDP Journey and expounded upon the obligations on organisations and rights of individuals under the new legislation.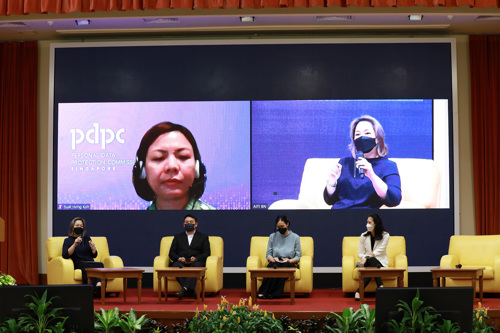 Panel Session: (L-R) Tina Lim Keasberry, Azad Zaki, Jasmine Wong, June Qiu
This was followed by a panel discussion consisting of Koh Suat Hong, Deputy Director of Policy & Tech, Personal Data Protection Commission, Singapore; Mohd Azad Zaki Hj Mohd Tahir, Deputy Chief Information Security Officer, Cyber Security Brunei; June Qiu, Head of Security, EVYD Technology Sdn Bhd and Jasmine Wong, Senior Legal Manager, AITI. The panel was moderated by Tina Lim-Keasberry, Assistant Chief Executive of AITI and discussed the Measures for PDP in the Digital Era. The session concluded with a Q&A segment with the audience.
Presently in Brunei, the processing of personal data in the private sector is largely unregulated. In recognising this importance, MTIC has designated AITI to develop a new law on PDP. AITI has since conducted public consultations with the stakeholders and drafted the PDP legislation, with consideration from the feedback of stakeholders. The upcoming law aims to govern the collection, use and disclosure of personal data by private organisations in a way that recognises the right of individuals to protect their personal data and the need of organisations to collect, use and disclose personal data.
For more information, the public can reach AITI's PDP team at pdp@aiti.gov.bn.
Brunei MYCE 2022 event is supported by Ministry of Foreign Affairs, Ministry of Home Affairs, Ministry of Health, Ministry of Education and Ministry of Culture, Youth and Sports. Among the partners also support the Brunei MYCE 2022 event are D'Sunlit Sdn Bhd as the event organiser; Datastream Digital Sdn Bhd (DST) as the official Telco partner; as well several official media partners namely Radio Television Brunei (RTB), Information Department (Pelita Brunei) and Brunei Press Sdn Bhd.