Press Release
AITI Organises Seminar, Classes for Senior Citizens and Youth at MYCE 2022
Wednesday, June 8, 2022
The Authority for Info-communications Technology Industry of Brunei Darussalam (AITI), in conjunction with Mid Year Conference and Exhibition (MYCE) 2022, is organising several activities to enliven the atmosphere at the International Convention Centre (ICC), Berakas. 
Brunei Content Festival 2022 
AITI hosted the first ever Brunei Content Festival 2022 which commenced with an exhibition on 9 June 2022 at the Perpaduan Hall in ICC. Participating vendors included Anak Melayu Tempatan Production House, Blue Raincoat, Canvaes, Envoy Films, Fasting Bro, Filterworks Production, Matters of Choice, Medley House Production, Midnight Media, Mix Media Worx, Relentless Entertainment, Universiti Brunei Darussalam (UBD) and Visionary Project. 
With the aims to promote local television (TV) and broadcasting content as well as to give recognition to the local content creators, producers, directors, film makers, talents and industry players, the Festival showcased local features, dramas and short films by the local production houses. Some of the main features of the exhibition that visitors were able to explore were the various experiences offered such as the content creation alley, green screen zone as well as enjoy the film screenings. The exhibition concluded with the Brunei Content Festival Awards Night held on 10 June 2022. 
'Digital Technology for Older Persons and Healthy Ageing' Seminar in conjunction with WTISD 2022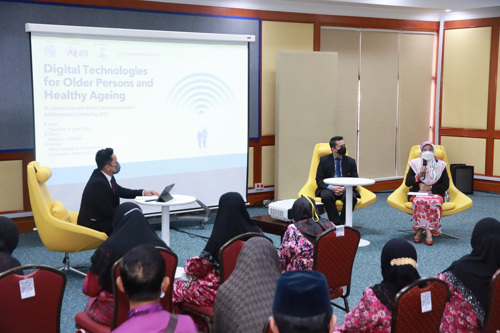 WTISD Seminar with (L-R) Zulazmi bin Haji Asli Dr. Muhd Hiza Wardy bin Hj Abd Halim Puan Siti Munawwarah binti Awang Tahir
This year, to commemorate World Telecommunication and Information Society Day (WTISD) 2022 in Brunei Darussalam, AITI organised a seminar on 9 June 2022 held at the Sepakat 6 room, at the International Convention Centre (ICC). The event was supported by Community Development Department (JAPEM), Ministry of Culture, Youth and Sports; Health Promotion Centre, Ministry of Health; and the Jerudong Park Medical Centre. 
Aligned with the WTISD 2022's theme - "Digital technologies for older persons and healthy ageing", the seminar promoted public awareness on how Information and Communication Technologies (ICTs) can facilitate healthy ageing to help people lead quality lives, especially as the nation is gearing towards digital transformation. The seminar was attended by various members of the public, including senior citizens which are registered under the Senior Citizens Activity Centre, Community Development Department (JAPEM). 
The first topic, "Healthy Ageing and Technology in Brunei Darussalam" was presented by Yang Mulia, Puan Siti Munawwarah binti Awang Tahir, Health Education Officer at the Health Promotion Centre, Ministry of Health. She presented the components of healthy ageing including the applicability of technologies, as well as the policy development perspective from the local and global context. 
The session was followed by the second presenter, Yang Mulia, Dr. Muhd Hiza Wardy bin Hj Abd Halim, Deputy Medical Director, Jerudong Park Medical Centre (JPMC) with the topic "How Technology can support Senior Citizens". He spoke about monitoring individuals' well-being and staying active with the support of technologies. 
The seminar concluded with a panel discussion between the two speakers, which was moderated by Yang Mulia, Zulazmi bin Haji Asli from the Digital Connectivity Group of AITI. 
With this seminar, it is hoped that the local community is more aware of the importance of healthy ageing, particularly in optimizing the full use of technology development to support their healthy lifestyles and activities. 
Digital Literacy Classes for Senior Citizens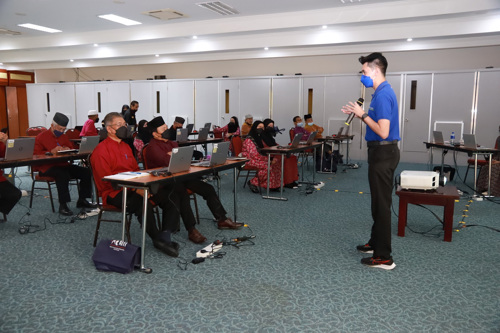 Members of PKWE Brunei-Muara attending Digital Literacy Class
In addition to the above seminar, AITI also conducted Digital Literacy Classes for senior citizens on 9 and 10 June 2022 in Sepakat Room 6, ICC. The classes introduced the fundamentals of ICT to the senior citizens. 
Tech One Global, as the facilitator for the workshop, introduced Microsoft Office and its everyday functions to the participants. They were also taught on how to perform online payments on e-commerce websites, navigate the internet and use the social media apps, as well how to protect themselves online with cybersecurity tips. 
Twenty-five (25) members of the Senior Citizen Activity Centre, Brunei-Muara and forty-six (46) members from the Senior Citizen Activity Centre, Tutong attended the classes. It is hoped that the classes will encourage the elderly to become more ICT literate so that they can take advantage of the various useful activities offered with the use of technology. 
Code for Fun Classes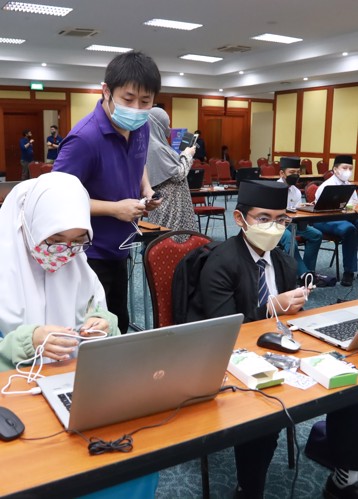 Year 7 & 8 students during Code for Fun Class
Code for Fun is an initiative by AITI to support the development of programming and computational thinking through fun and practical learning using smart devices for pre-teens. This year, Code for Fun returns for students in Year 7 and 8 that was held on 9 June and 10 June 2022 in Sepakat Room 5, ICC. The classes were facilitated by EduChamp Academy and were divided into three sessions: 
Coding with micro:bit – Watch Kit 
Participants learned how to design and programme their own wearable watches. 
Coding with micro:bit – Robotic Kit 
Participants learned about the basics of robotics and how to control a robot. 
Coding with microbit – Tinker Kit 
Participants learned how to programme a sensor. 
Seventy-five (75) students from eleven (11) government schools and nine (9) private schools attended the classes. We hope that the classes will inspire the participants to discover their passion for ICT so they will continue to nurture it for the future. 
Brunei MYCE 2022 event is supported by Ministry of Foreign Affairs, Ministry of Home Affairs, Ministry of Health, Ministry of Transport and Infocommunications, Ministry of Education and Ministry of Culture, Youth and Sports. Other partners which also support the Brunei MYCE 2022 event are D'Sunlit Sdn Bhd as the event organiser; Datastream Digital Sdn Bhd (DST) as the official Telco partner; as well several official media partners namely Radio Television Brunei (RTB), Information Department (Pelita Brunei) and Brunei Press Sdn Bhd.